YIDDISH SONG LECTURE RECITALS
For over twenty years I have been promoting and sharing Yiddish culture through the visual and musical arts. I am one of the few people in the world today actively reviving the art of women's a cappella singing, and the lecture/recital format is my platform in many communities, school settings, and cultural and religious events. I dip into the treasure trove of Yiddish songs and weave a tapestry, telling the stories of singers past and present, and bridging time and space in song. Note: In most cases PowerPoint translations are projected on a screen during the programs to support the anecdotal and contextual settings of the songs. (I arrange Shabbat-appropriate alternatives to the PowerPoint presentations.) The programs are absolutely accessible to non-Yiddish-speaking audiences.
Lecture/recitals may be tailored to time slots of 30 minutes, 45 minutes, or 90 minutes, and may be developed into repertoire workshops where participants learn to sing the songs.
Here are a sampling of lecture/recitals in my active repertoire:
1. Women's Voices in Yiddish Song – Explore a wide range of life experience that women have sung about and continue to express: cradle songs, love and courtship songs, labor movement and Bundist songs, songs which capture women's experiences of the Holocaust period, and Yiddish songs by contemporary composers. Our songs are the diaries of our lives!
2. Songs of Spiritual Yearning – Here's a wide selection of songs from early Hassidic melodies to contemporary songs of spiritual struggle and hope which are filled with questioning, seeking, and envisioning a future of peace and harmony.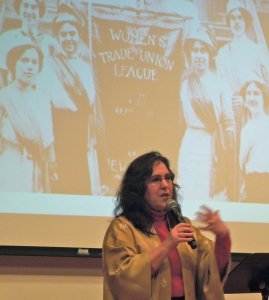 3. Rage Against the (Sewing) Machine – March 25, 2011 marked the 100th anniversary of the tragic Triangle Shirtwaist Factory fire, and we acknowledge that pivotal event in the larger history of Jews fighting labor oppression with Yiddish song. The people and music that galvanized the early labor movement will be examined along with historic archival photos and remarkable biographies – and songs, of course. From struggle to triumph – an ongoing process!
4. Jews and Food – Unless it's been too long since you've participated in a Jewish celebration, you will know that we are not the punch and cookies folks! Here's a culinary tour of each of the food groups as found in Yiddish song, from varnishkes to gefilte fish, and from homentaschen to chicken – a bit heavy on the starches, I admit! There's plenty of musical wine and whiskey to wash it all down, too! This program is fully adaptable to a sing-along event with all materials provided.
5. Singing the World Awake – We reach back to songs of Czarist oppression and the struggles of needleworkers at the beginning of the Industrial Revolution, and then plunge into the vast and rich genre of Yiddish songs that helped shape the movements to create positive changes in living conditions. Envisioning a shenere un besere velt – a more beautiful and kinder world is what many of the songs embody.
6. The Place of Song in the History of the Holocaust – During the darkest period of our recent history, songs that sprang from people's hearts defied a culture of death and destruction by insisting that life's value could not be silenced. Songs were morale builders, secret codes, and testaments to the lives and experiences of folk poets, composers and singers who left us their musical legacy when they perished. Translations and a study guide are avaibable.
7. A Trip to Yiddishland – While traveling and performing between Kiev and Yvpatoria in Ukraine and Crimea, I met with homebound elders, artists, brilliant musicians, and students living richly complex Jewish lives. Community workers in the FSU are laying foundations for an already blossoming renewal of Yiddishkayt. This program combines songs and stories that illuminate the meaning of a Jewish presence today in a land rich with many of our own dimly lit histories.
8. Songs of the Immigrant Experience – Coming to America – Far from a cloying or nostalgic reworking of hackneyed images, this program in song offers an overview of the Eastern European Jewish immigrant experience that not only reveals the stories, but also captures the range of emotions that shaped the world for tens of thousands of Jews from the mid 1880's into the 1920's.
9. What's New at Your Seder? – Pesach, more than any other holiday, draws families together. This program offers a surprisingly wide range of relevant but rarely heard songs uniquely suited to the processes of remembering, questioning, and learning that are built into the Hagaddah. Most are in Yiddish, but there's also a healthy dollop of songs in Judea-Spanish from Sarajevo, Hebrew, and English, and melodies come from all over Eastern Europe, the United States and even Morocco.
10. Naye Kveytn – New Buds – Poets and musicians, young and no longer young, are finding voices in conemporary Yiddish music. This program explores fresh material that touches old lyrics to new melodies, new words to traditional tunes, and material developed entirely out of contemporary experience and offered a home in Yiddish.
11. Yearning for Homeland – Looking over millennia of Jewish history, we know that our people have left many lands behind and have yearned for homes abandoned. This program examines in song not only the yearning for the homeland of Eretz Yisroel (the land of Israel), but also Spain, Russia, and the shtetlekh (Jewish villages) of the Pale of Settlement. We'll examine the heady anticipation of reaching several other "golden lands," including Birobidzhan (the Soviet Jewish Autonomous State near Siberia) and of course, Amerike! The songs range from enthusiastic to nostalgic, from sorrowful to exhilarated.
12. Gilgulim – Transmigrations – We see ourselves historically as a people on the move. Here's a musical look at some of our collective journeys from multiple perspectives, including: songs of places left behind, songs that yearn for Israel, dreams of America and other golden lands, lands beyond reality and realities beyond reach, and the transmigration of songs themselves. This is a thought-provoking and at times utterly surprising collection which never bogs down in nostalgia.
13. Folklore, Families and Fun! – Think magical stories, musical choruses rising in multiple voices, children acting out cumulative songs with props and costumes, and all of it as part of a rich tapestry of Yiddish literature, folk culture, and traditional songs. As with all of her programs, Susan works with sensitivity to the audience to craft an adventure tailored to please every age and interest level. This is a flexible program with the possibility of expansion with back-up musicians, and/or a focus on specific writers, illustrators, or topics. (See descriptions of Haverford Library program 4/15/12 on Maurice Sendak's work.)
14. I.B. Singer and his Artists – The lengthy writing career of Nobel Laureate Isaac Bashevis Singer fills bookshelves, and provided dozens of artists with opportunities to filter Singer's visions through their own artistic sensibilities as his illustrators. Some were friends, like Rafael Soyer and Ira Moskowitz, and some became friends after finding shared roots, like Maurice Sendak. Some shared visions of life in Poland like Irene Leiblich, while some, like Margot Zemach, chosen by Singer's publishers, brought a folkloric vision to the stories. Still others, like Eric Carle, carried Singer's words into 21st Century American homes in a bold break from the color palette of Poland. This presentation is a a collage of sound and image, as Susan speaks and sings her way through Singer's stories and memoirs, accompanied by painted images from his books and Yiddish songs old and new which stitch the visual and literary together.
15. Jews in Russia and the Soviet Union – An Richly Unsettling History – Zvi Gitelman's fabulous chronicle A Century of Ambivalence forms the scaffolding for a musical exploration of the part of Europe that has shaped many of us. From the Tzarist Cantonists, and through pogroms, socialist visions of utopia, the Holocaust years and the partisan movement, the black years of Stalin's oppression, and to today, we will explore our roots and reframe songs that hold keys to our collective history. As with all other lecture/recitals, this is presented with Power Point translations and archival photo imagery to bring history alive and make it fully accessible.
16. The Human Hand in History by way of Yiddish Song – One of the characteristics of Yiddish song is the strong voice of the people. Aside from the enormous and brilliant genres of Hasidic and religious songs, the folk and composed material that celebrates heros and heroines raising the masses from misery and pain shine a light on both past and future. Here we'll examine many of those individuals and the goal of social justice that informed the original singers. Men and women who singularly fought for freedom and justice in their times start with Moses and bring us to the present. It's a remarkable way to embrace our heritage.
17. Fregt di Velt an Alte Kashe (The World Asks an Ancient Question) – Much of Jewish culture is questioning and delving for answers, so it makes sense that our Yiddish folksong treasury would be rich with both philosophic and simple queries. This program, adaptable for all singing configurations or primarily listening, offers insights into the lives that were captured in songs-as-diaries, and into histories and changes mapped in song. Of course, the familiar will become new, and most surprising multi-cultural discoveries await!
18. The World that Brought us to Fiddler… This is a perfect introduction to the organic development of shtetl life (as the Pale of Settlement squeezed Jews into otherwise untenable living among neighbors), the brilliance of Sholem Aleichem and others in the writings that opened people's eyes a bit to changes on the horizon, and the cultural richness of Jewish life in Eastern Europe. This was originally developed for presentation to high school students who were mounting Fiddler on the Roof and it's offered with a wealth of PowerPoint imagery and an extraordinary film clip. The presentation may be tailored to a specific group and incorporates some a capella singing in Yiddish – of course! Susan provides a space for lots of questions about a time that seems far away but which has direct connections to contemporary as well as Biblical events.
________
OR… A TOTALLY NEW WAY TO INVOLVE YOUR ENTIRE COMMUNITY:
If ordinary (albeit extraordinary) lectures, lecture/recitals, and demonstrations are too tame for you, Susan's developed a program which will engage everyone from the youngest to the eldest in creative visual arts, traditional Jewish folk arts expression, Yiddish singing and live music, guerilla theater, children's art, shadow puppetry AND study of Jewish values through poetry and history! Are you intrigued yet? We'll identify a topic in advance, and then we'll study archival sources and 'storyboard' to draw together singing, perhaps live instrumental music, spoken word, collage, papercutting, shadow puppetry, and painting in creating a CRANKY, a "primitive, miniature theater in a box." The residency will culminate in the presentation of a low-tech, high-energy theater experience unscrolled for the assembled masses!
This program requires about four days and allows for every member of a group or community to become part of creating a marvelous work of theater and art. Inspiration for this type of community project comes from master puppeteer, director, circus artist and Yiddish performance artist Jenny Romaine with whom Susan first explored the art of the cranky in a Workmen's Circle summer program that paired young teenagers and nonagenarians in a theater presentation based on a Yiddish ballad from World War I.
Please contact us to have a conversation about this remarkable program and how it may be tailored to your specific needs.