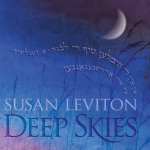 My newest recording is titled Deep Skies.  Below are selections from some of the material on the CD.  Arranged and produced by Michael Winograd, the recording features Lauren Brody, Frank London, Michael Winograd, Dan Kahn, Dan Blacksburg, and many other musicians, as well as a rollicking chorus on "Levine".  You'll find everything from a cappella to full brass band,  tender ballads to great theatric orchestrations. The cd is housed in a hard-bound book with full translations and transliterations as well as my own artwork illustrating each song.
Ordering through PayPal is available now by clicking here.  The cost is $20 per cd plus shipping charges.  Or simply drop Susan an email by clicking here at Contact Us and arrange to send a check and receive your music directly from the artist.
I'll be adding clips from my newest recording Deep Skies over the next few days.
Here's a taste. The song is titled Szol a kakas mar, and is an a cappella duet with Lauren Brody, sung in Hungarian.
[audio:http://susanlevitonarts.com/wp-content/uploads/2014/01/09-Szol-A-Kakas-Mar.mp3|titles=Szol a Kakas Mar]
A beautiful excerpt from Dos Naye Lid, featuring Frank London on trumpet
[audio:http://susanlevitonarts.com/wp-content/uploads/2014/01/12-Dos-Naye-Lid1.mp3|titles=Dos Naye Lid]
Dan Kahn and a full band under Michael Winograd's direction brings you a taste of the fabulous themesong from the 1936 film Yidl Mitn Fidl!
[audio:http://susanlevitonarts.com/wp-content/uploads/2014/01/03-Yidl-Mitn-Fidl.mp3|titles=Yidl mitn Fidl]
The Betler Lid (Beggar's Song) asks how so much pain can get into a tiny fiddle, and the the lyric answers that the fiddle knows the fate of the musician – his wonder, his wanderings, and his sadness.
[audio:http://susanlevitonarts.com/wp-content/uploads/2014/01/02-Betler-Lid.mp3|titles=Betler Lid]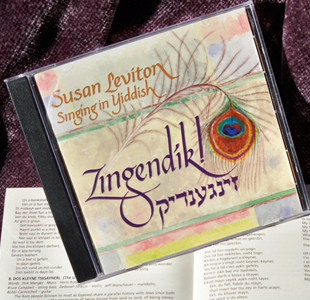 The following clips are taken from my recording Zingendik! The recording of 18 varied and rarely-heard Yiddish songs features 14 different musicians and a 20-voice women's chorus.   The recording is available for purchase.   Please visit the contact us page. Aleyn in Veg (I Walk Out Alone Onto the Road)  Translated by A. Reisen from Lermontov's Russian poem. [audio:http://susanlevitonarts.com/wp-content/uploads/2011/06/Aleyn-in-Veg.mp3|titles=Aleyn in Veg]   Arbeter Froyen (Working Women)  Dovid Edelshtadt's anthem, backed by the Central PA Womyn's chorus. [audio:http://susanlevitonarts.com/wp-content/uploads/2011/06/Arbeter-Froyen.mp3|titles=Arbeter Froyen]   Dem Zeydns Nigndl (Grandfather's Tune)  One of several melodies to which Shike Driz's poem has been set.  It's hard not to sing along! [audio:http://susanlevitonarts.com/wp-content/uploads/2011/06/Dem-Zeydns-Nigdl.mp3|titles=Dem Zeydns Nigdl] Dos Kleyne Tsigaynerl (The Little Gypsy)  Itsik Manger's poem about a poor orphaned child whose only friend and means of support is the fiddle his father left him is brought to life with the dynamic playing of Deborah Strauss, Jeff Warschauer, Bruce Campbell and Bobbi Carmitchell. [audio:http://susanlevitonarts.com/wp-content/uploads/2011/06/Dos-Kleyne-Tsigaynerl.mp3|titles=Dos Kleyne Tsigaynerl]   Es Iz Nokh Faran Aza Blum (There is Still Such a Flower)  This beautiful folk melody was popular in interwar Poland. Yosl Mlotek asked me to learn it. [audio:http://susanlevitonarts.com/wp-content/uploads/2011/06/Es-Iz-Nokh-Faran-Aza-Blum.mp3|titles=Es Iz Nokh Faran Aza Blum]       S'iz Der Step (These Are The Steppes)  Ethel Raim's Balkan-style arrangement of this love song is brought to life by Marsha Gildin, Deborah White, and my daughter Yona Leviton Gorelick joining me in tight harmonies. [audio:http://susanlevitonarts.com/wp-content/uploads/2011/06/Siz-Der-Step.mp3|titles=S'iz Der Step]   Di Fir Muskatirs (The Four Muskateers)  In her small published folio, Tsen Lider, Aliza Greenblatt dedicated this song to her 'girlfriends in Kansas City.') [audio:http://susanlevitonarts.com/wp-content/uploads/2011/06/Di-Fir-Muskatirs.mp3|titles=Di Fir Muskatirs]   The following cuts are from various studio and live recordings.    I started singing with the Old World Folk Band in 1985.  These clips are from the band's last album, Crossing New Borders. Borscht A great old love song that speaks of love in terms of a delicious beet and cabbage soup! [audio:http://susanlevitonarts.com/wp-content/uploads/2011/06/Borscht.mp3|titles=Borscht]   Chernobyl Michael Alpert wrote this song in response to the nuclear meltdown at Chernobyl and upped the irony by pairing his lyric with an upbeat and sarcastic old Russian/Ukranian/Yiddish tune and a reference to Chernobyl having been a center of Hassidic activity in an earlier century.  Featuring Gary Grobman on flute. [audio:http://susanlevitonarts.com/wp-content/uploads/2011/06/Chernobyl.mp3|titles=Chernobyl]   Harbstlid (Autumn Song)  Beyle Schaechter-Gottesman's song of yearning for Spring while 'Autumn offers baskets of gold.' [audio:http://susanlevitonarts.com/wp-content/uploads/2011/06/Harbstlid.mp3|titles=Harbstlid]